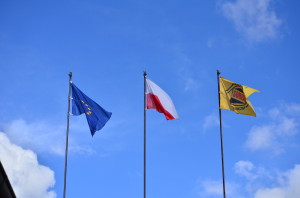 Our company exists on the market since 1989. At the 50 square meters of leased surface we started production of precise elements for looms. During many years of economic problems and galloping inflation in Poland, our company was engaged in many different business lines, beginning with very precise parts, and ending with steel construction.  Thanks to this our company is flexible in terms of operating.  As an effect, we have diversified machine facilities and well-qualified workers at our disposal.
At that time, we were one from few companies which interacted with western companies. Thanks to our reliability and high quality of our products we earned their high credit. Our items sold in western countries competed successfully with the best products from the given regions.
During its existence, the company constructed and created a lot of technical items for the chemical, pharmaceutical, food, woodworking and meat processing industries.  For many years we were involved in constructing and implementing unique items which processed foil into paraffin wax and diesel oil.
For many years our company has educated several hundred students who, thanks to our teaching methods, found work within boundaries of our country and abroad. At present in our company there are forty highly qualified workers. The stock of machines ranges from manual machines to numeric machines. The floor space of the plant where all the machines and roofing tools are produced equals 1500 m2. High experience of workers allow us to machine items of the best quality.
A few years ago we started to produce professional manual bending machines. They easily compete with products created by the best well-known companies and became our flagship product instantly. Aggressive development and recognizable brand of our enterprise increases the number the buyers in Poland and Europe. Changes in construction and machine, tools, and equipment modernization are constantly consulted with the best roofers.
At present, new tools and machines are implemented into production which will enlarge the stock in our production. At various fairs and exhibitions our products earned great credit and interest. They were repeatedly granted with honor.